In December 2012 the European Council made signature of the Association Agreement (concluded but not signed in December 2011)
contingent upon Ukraine fulfilling three conditions
:
complying with international standards of electoral practice,
ending selective justice,
implementing the reforms defined in the jointly agreed Association Agenda'
The EU has already described the last Autumn's parliamentary elections as
'a step backward'.
And the EU Delegation to Ukraine
was "deeply concerned"
by the postponement until 2015 of the Kyiv city local elections after the city council's mandate expired several weeks ago. The previous elections had last been held in 2008.
The result of the 2012 parliamentary elections in Kyiv shows that the capital's electorate can no longer be easily manipulated or bought off with cheap bribes; pro-government forces in the city council are most aware they would be all but wiped out in any fresh local election.
Control of Kyiv, a city whose population is greater that that of some EU countries, will be vital for Yanukovych if he wants to win the 2015 presidential elections hence the cynical postponement of city council elections and the hijacking and violent scenes before yesterday's unscheduled Kyiv city council "session".
Many dozens of
paid thuggish louts
of 'sporting appearance' were again used by so called "law enforcement bodies" as a first line of defence. These are the same thugs who disrupted the count at many polling stations in last year's parliamentary elections and during 'Arise Ukraine' demonstrations organised by Ukraine's opposition parties. They have been seen actively taking part in regular corporate raids of property during which police usually turn a blind eye.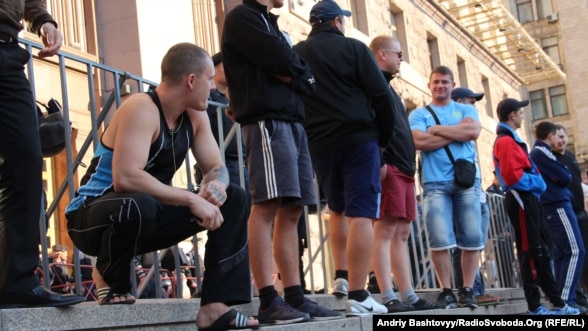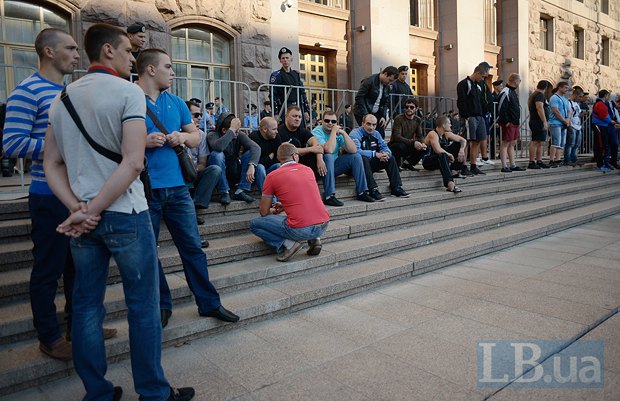 See disturbing
video of these thugs in front of police lines yesterday here
This is just not acceptable in a country striving to meet European standards of behaviour.
Opposition deputies
were targeted and assaulted
when they wanted to take advantage of their constitutional right to enter Kyiv city hall, breaking an unwritten rule that elected deputies should never be beaten by police.
Head of the National Security and Defence Council and long-time close associate of Yanukovych, Andriy Kluyev was
allegedly the organiser
of these 'measures'.
If there is
credible evidence of this
the EU should ban him from entry into member countries and ensure his
substantial financial interests in Austria
are scrupulously vetted for legitimacy.
The Vilnius summit when the EU-Ukraine Association could be signed is exactly 100 days away. Two of the three conditions set by the EU are being totally disregarded. Since December 2011 Yanukovych has ignored any concern European bodies have expressed about the country's slide to authoritarianism.
Decent standards of electoral practice have not been adhered to. Selective justice continues to prevail. Opposition politicians are still being targeted, and Yulia Tymoshenko has not been released despite the European Court of Human Rights court ruling in her favour.
The Association Agreement should now be 'pulled' from the agenda of the November Vilnius summit.