Yesterday a pre-trial hearing took place in Kyiv during which Ihor Maryinkov, a rather nasty-looking witness [see photo], gave testimony.
He accused Yulia Tymoshenko of involvement
in the contract killing of Donetsk multimillionaire and member of parliament Yevhen Shcherban, back in 1996.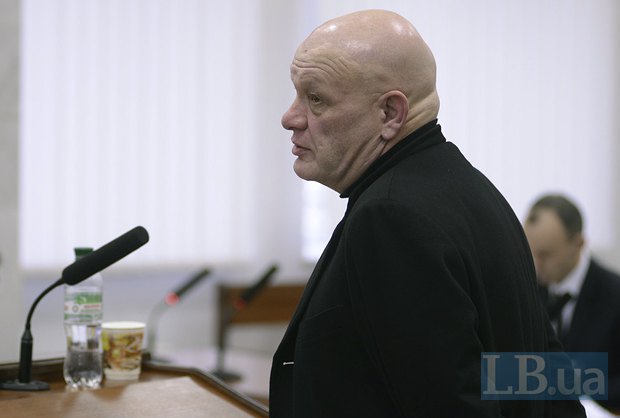 In her 'U.P.' blog
investigative journalist Tetyana Chornovil reveals
that Maryinkov, like Rulan Shcherban [see previous blog] also has links to the Yanukovych family.
From official sources, Chornovil discovered that in the mid 90's Maryinkov was the founder of the joint Ukraine-Russian enterprise "DonetskoOvoch", which was later renamed "UkrSpetsResurs". His business partner was a certain was Arkady Klein from Artemivsk.
Arkady Klein worked for 42 years at the Artyomivsk sparkling wine factory [the biggest of its kind in Eastern Europe] and at the end of the 90's became its director. At that time it was part of the "UkrInterProdukt" corporation whose owner was Party of Regions' MP Alexander Leshchynsky. Igor Alexandrov, director of the Slovyansk TV company Thor, who was beaten to death in 2001, called Leshchynsky "The vodka king of Donbas."
Around the same time Arkady Klein becomes an honorary citizen of the city of Artemivsk (just after the Soviet Union's Sinatra - Yosyp Kobzon had received this honour) and the factory directorship is handed over to a Roman Nikiforov. (Nikiforov mysteriously 'shot himself dead' with a rubber bullet immediately after the Orange Revolution [
see this from F.N.
]).
In 2000 Arkady Klein is appointed chairman of the supervisory board of the Artyomivsk Winery and holds this position until 2006.
In 2002 the Donetsk firm "Edelweiss" becomes a shareholder in the Artyomivsk Winery with a 15% stake. Structures close to Rinat Akhmetov and Boris Kolesnikov owned the remainder. Today 99.9% of the shares of this company belong to Viktor Yanukovych's son Oleksandr's "MAKO Holding".
"Edelweiss" was the main business structure of the Yanukovych's in 2002. Old family associate Edward Prutnik, the-then manager of 'The Family's' businesses, was it's front man. Prutnik later sold his share of "Edelweiss", so now Oleksandr Yanukovych is the sole owner of "Edelweiss."
Thus it appears that Arkady Klein, business partner of today's witness in the Shcherban murder case, for several years helped develop the champagne sector of Yanukovych's elder son's businesses.
It turns out that now that both main prosecution witnesses have links with Yanukovych family's businesses.
Ruslan Shcherban hunts with Yanukovych's business partners [and occasionally shoots them ;-) ] He also goes hunting with Oleksandr Yanukovych himself.
Ihor Maryinkov had a joint business with a man who occupied a high position in a company owned by Oleksandr Yanukovych, Rinat Akhmetov, and former cabinet minister Boris Kolesnikov.
Maryinkov can be considered to be a habitual, professional witness. He testified in the highest profile murder trials ever held in Ukraine - those of Yevhen Scherban, Shakhtar Donetsk boss and alleged mafia capo Akhat Bragin, and National Bank of Ukraine chairman, Vadym Hetman.
In those trials he gave all necessary evidence in favour of the prosecution against crime boss Yevhen Kushnir, who organised there killings, and Kushir's ties to Pavlo Lazarenko. But he never ever uttered a single word about Yulia Tymoshenko's involvement in these murders...until now.
Maryinkov started to give evidence [and 'sing' like a canary] after he was arrested on May 30, 1998, together with a Yuriy Serdyuk, when driving into Poltava.
An arsenal of weapons were found in the trunk of his Mercedes - a Kalashnikov automatic rifle, several grenade launchers, and a large quantity of ammunition. He was sentenced to a laughable one year of imprisonment.
Serdyuk testified in all the above-mentioned high-profile trials together with Ihor Maryinkov.
In their evidence, Serdyuk and Maryinkov recalled their trusting friendships with members of the murderous Kushnir gang. They were so close that Kushnir and his side-kick Anatoliy Ryabin spoke openly to them about their plans to murder a whole list of top people in the Donbas region, in other words Serdyuk and Maryinkov were both loyal gang members.
So the businessman Maryinkov, with his highly criminal background was also close to Arkady Klein, who for many years was in charge of production at the Artyomivsk Winery, owned by Akhmetov, Kolesnikov and Yanukovych's eldest son.
Ryabin was killed in 1966. Kushnir died in highly suspicious circumstances while he was detained in an investigative isolation unit in Donetsk in May 1998.
p.s. With friends and associates like these is it any wonder the Yanukovych's are constantly surrounded by swarms of bodyguards....it's not their enemies they are worried about...
A final thought - over that last few years, after the disillusionment of the Oranges, many in Ukraine have been prepared to overlook, and perhaps forgive the undeniable criminal background of today's 'Donteski'. Any trial of those who allegedly commissioned Yevhen Shcherban's murder will inevitably again shine a spotlight on the dark events of the mid nineties in that region...to the detriment of the 'Donetski'? As for observers from Europe and elsewhere...hmm....Yanuk must really, really fear Tymoshenko...