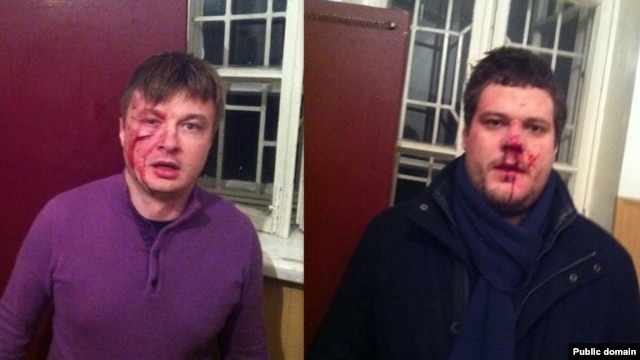 Tonight 'Svoboda' parliamentary deputy Andriy Illyenko and his lawyer, Sydor Kizin, where severely beaten by a gang of thugs. The pair had just left the Shevchenkivskiy regional police administration building in central Kyiv where they had been summoned for questioning.
Illyenko has declared only he and the police investigator with whom they had conducted the meeting knew where it was to take place.
Several of the assailants followed Illyenko and Kizin as as they left the building. The attack took place moments later, less than 100m down the street, when the pair were confronted by the remainder of the gang and their retreat cut off. Up to ten thugs were involved.
Obviously there is a strong suspicion that their beating was organised by law enforcement officials themselves...
There can be little doubt that since the EuroMaidan took off an organised campaign of intimidation is under way directed against Yanukovych's opponents.
Such events will only deepen the crisis and stiffen the resolve of protesters.
The police are yet again 'taking the piss' - treating the matter as a case of 'hooliganism',
p.s. the campaign of terror is not being missed by western observers...see
this letter in 'The Guardian'